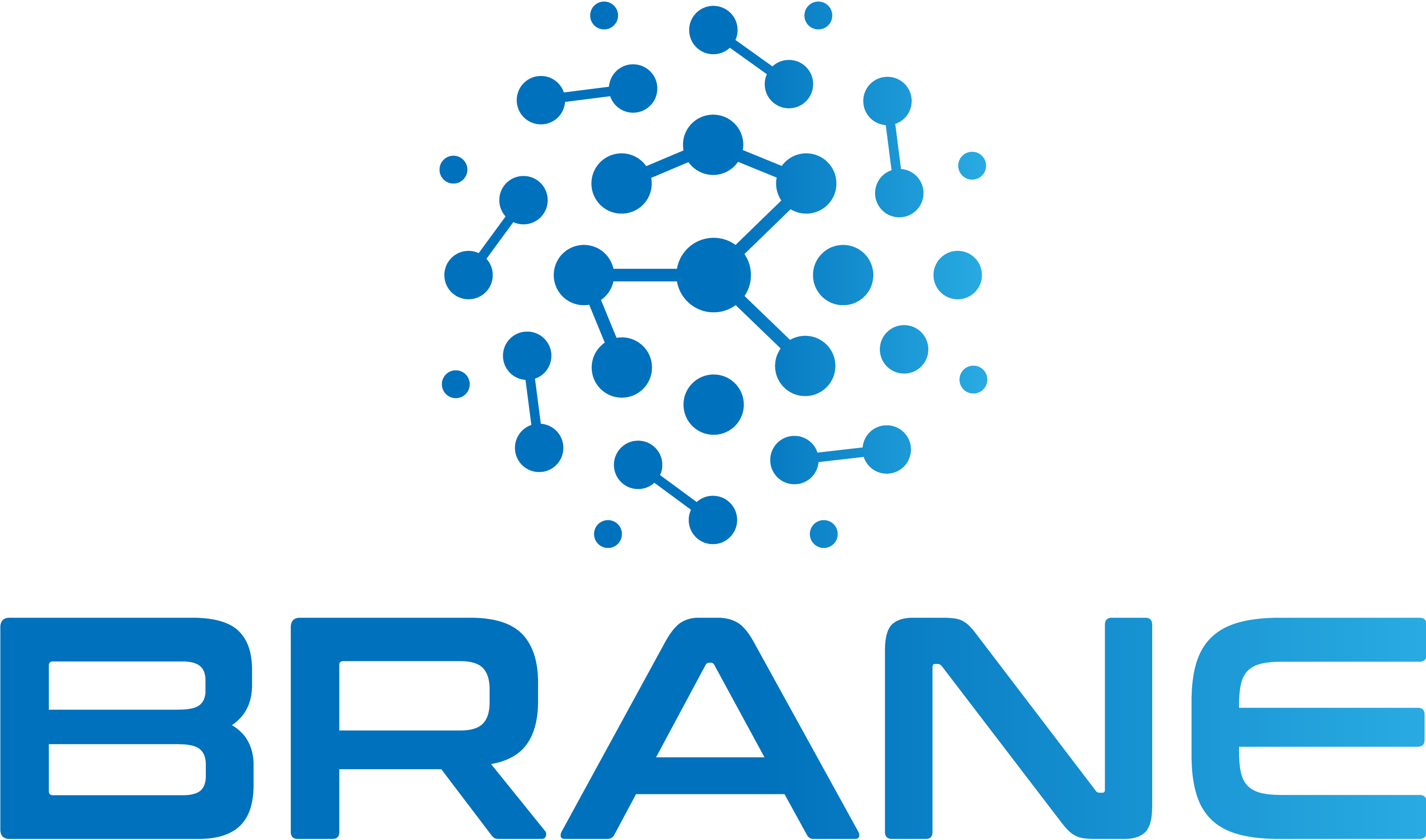 Welcome to the Brane wiki!
On this site, three books on Brane are available, each with their own target audience:
Brane: The User Guide is aimed at the end-users of the framework. If you are either a system engineer looking to connect your infrastructure to Brane, a software engineer who wants to develop packages for Brane, a policy maker who wants to add policies to Brane or a scientists who wants to write workflows for Brane, this book is for you.
Brane: A Specification is the book for those who are intending to develop the framework or who want to know how it works. It is written as a kind of generic overview that specifies the workings of the framework without diving too much into code.
Brane: Guide For Administrators is aimed at the administrators of the Brane framework, who are in charge of deploying it and managing it. This also contains instructions on how to compile the framework and which dependencies are needed.
You can click on any of the books here or in the sidebar (to the left) to go to the book of your choosing.
    <!-- Custom HTML head -->
    <meta http-equiv="refresh" content="0; URL=https://wiki.enablingpersonalizedinterventions.nl/user-guide/" />
    
    <meta content="text/html; charset=utf-8" http-equiv="Content-Type">
    <meta name="description" content="">
    <meta name="viewport" content="width=device-width, initial-scale=1">
    <meta name="theme-color" content="#ffffff" />

    <link rel="icon" href="favicon.svg">
    <link rel="shortcut icon" href="favicon.png">
    <link rel="stylesheet" href="css/variables.css">
    <link rel="stylesheet" href="css/general.css">
    <link rel="stylesheet" href="css/chrome.css">
    <link rel="stylesheet" href="css/print.css" media="print">

    <!-- Fonts -->
    <link rel="stylesheet" href="FontAwesome/css/font-awesome.css">
    <link rel="stylesheet" href="fonts/fonts.css">

    <!-- Highlight.js Stylesheets -->
    <link rel="stylesheet" href="highlight.css">
    <link rel="stylesheet" href="tomorrow-night.css">
    <link rel="stylesheet" href="ayu-highlight.css">

    <!-- Custom theme stylesheets -->

</head>
<body>
    <!-- Provide site root to javascript -->
    <script type="text/javascript">
        var path_to_root = "";
        var default_theme = window.matchMedia("(prefers-color-scheme: dark)").matches ? "navy" : "navy";
    </script>

    <!-- Work around some values being stored in localStorage wrapped in quotes -->
    <script type="text/javascript">
        try {
            var theme = localStorage.getItem('mdbook-theme');
            var sidebar = localStorage.getItem('mdbook-sidebar');

            if (theme.startsWith('"') && theme.endsWith('"')) {
                localStorage.setItem('mdbook-theme', theme.slice(1, theme.length - 1));
            }

            if (sidebar.startsWith('"') && sidebar.endsWith('"')) {
                localStorage.setItem('mdbook-sidebar', sidebar.slice(1, sidebar.length - 1));
            }
        } catch (e) { }
    </script>

    <!-- Set the theme before any content is loaded, prevents flash -->
    <script type="text/javascript">
        var theme;
        try { theme = localStorage.getItem('mdbook-theme'); } catch(e) { }
        if (theme === null || theme === undefined) { theme = default_theme; }
        var html = document.querySelector('html');
        html.classList.remove('no-js')
        html.classList.remove('navy')
        html.classList.add(theme);
        html.classList.add('js');
    </script>

    <!-- Hide / unhide sidebar before it is displayed -->
    <script type="text/javascript">
        var html = document.querySelector('html');
        var sidebar = 'hidden';
        if (document.body.clientWidth >= 1080) {
            try { sidebar = localStorage.getItem('mdbook-sidebar'); } catch(e) { }
            sidebar = sidebar || 'visible';
        }
        html.classList.remove('sidebar-visible');
        html.classList.add("sidebar-" + sidebar);
    </script>

    <nav id="sidebar" class="sidebar" aria-label="Table of contents">
        <div class="sidebar-scrollbox">
            <ol class="chapter"><li class="chapter-item expanded affix "><a href="welcome.html">Welcome</a></li><li class="chapter-item expanded affix "><li class="part-title">Books</li><li class="chapter-item expanded "><a href="user-guide.html"><strong aria-hidden="true">1.</strong> Brane: The User Guide</a></li><li class="chapter-item expanded "><a href="specification.html"><strong aria-hidden="true">2.</strong> Brane: A Specification</a></li><li class="chapter-item expanded "><a href="admins.html"><strong aria-hidden="true">3.</strong> Brane: Guide For Administrators</a></li></ol>
        </div>
        <div id="sidebar-resize-handle" class="sidebar-resize-handle"></div>
    </nav>

    <div id="page-wrapper" class="page-wrapper">

        <div class="page">
                            <div id="menu-bar-hover-placeholder"></div>
            <div id="menu-bar" class="menu-bar sticky bordered">
                <div class="left-buttons">
                    <button id="sidebar-toggle" class="icon-button" type="button" title="Toggle Table of Contents" aria-label="Toggle Table of Contents" aria-controls="sidebar">
                        <i class="fa fa-bars"></i>
                    </button>
                    <button id="theme-toggle" class="icon-button" type="button" title="Change theme" aria-label="Change theme" aria-haspopup="true" aria-expanded="false" aria-controls="theme-list">
                        <i class="fa fa-paint-brush"></i>
                    </button>
                    <ul id="theme-list" class="theme-popup" aria-label="Themes" role="menu">
                        <li role="none"><button role="menuitem" class="theme" id="light">Light</button></li>
                        <li role="none"><button role="menuitem" class="theme" id="rust">Rust</button></li>
                        <li role="none"><button role="menuitem" class="theme" id="coal">Coal</button></li>
                        <li role="none"><button role="menuitem" class="theme" id="navy">Navy (default)</button></li>
                        <li role="none"><button role="menuitem" class="theme" id="ayu">Ayu</button></li>
                    </ul>
                    <button id="search-toggle" class="icon-button" type="button" title="Search. (Shortkey: s)" aria-label="Toggle Searchbar" aria-expanded="false" aria-keyshortcuts="S" aria-controls="searchbar">
                        <i class="fa fa-search"></i>
                    </button>
                </div>

                <h1 class="menu-title">Main page</h1>

                <div class="right-buttons">
                    <a href="print.html" title="Print this book" aria-label="Print this book">
                        <i id="print-button" class="fa fa-print"></i>
                    </a>
                    <a href="https://github.com/epi-project/brane" title="Git repository" aria-label="Git repository">
                        <i id="git-repository-button" class="fa fa-github"></i>
                    </a>

                </div>
            </div>

            <div id="search-wrapper" class="hidden">
                <form id="searchbar-outer" class="searchbar-outer">
                    <input type="search" id="searchbar" name="searchbar" placeholder="Search this book ..." aria-controls="searchresults-outer" aria-describedby="searchresults-header">
                </form>
                <div id="searchresults-outer" class="searchresults-outer hidden">
                    <div id="searchresults-header" class="searchresults-header"></div>
                    <ul id="searchresults">
                    </ul>
                </div>
            </div>

            <!-- Apply ARIA attributes after the sidebar and the sidebar toggle button are added to the DOM -->
            <script type="text/javascript">
                document.getElementById('sidebar-toggle').setAttribute('aria-expanded', sidebar === 'visible');
                document.getElementById('sidebar').setAttribute('aria-hidden', sidebar !== 'visible');
                Array.from(document.querySelectorAll('#sidebar a')).forEach(function(link) {
                    link.setAttribute('tabIndex', sidebar === 'visible' ? 0 : -1);
                });
            </script>

            <div id="content" class="content">
                <main>
                    <h1><a class="header">Redirecting...</a></h1>

                </main>

                <nav class="nav-wrapper" aria-label="Page navigation">
                    <!-- Mobile navigation buttons -->

                        <a rel="next" href="user-guide.html" class="mobile-nav-chapters next" title="Next chapter" aria-label="Next chapter" aria-keyshortcuts="Right">
                            <i class="fa fa-angle-right"></i>
                        </a>

                    <div style="clear: both"></div>
                </nav>
            </div>
        </div>

        <nav class="nav-wide-wrapper" aria-label="Page navigation">

                <a rel="next" href="user-guide.html" class="nav-chapters next" title="Next chapter" aria-label="Next chapter" aria-keyshortcuts="Right">
                    <i class="fa fa-angle-right"></i>
                </a>
        </nav>

    </div>




    <script type="text/javascript">
        window.playground_copyable = true;
    </script>


    <script src="elasticlunr.min.js" type="text/javascript" charset="utf-8"></script>
    <script src="mark.min.js" type="text/javascript" charset="utf-8"></script>
    <script src="searcher.js" type="text/javascript" charset="utf-8"></script>

    <script src="clipboard.min.js" type="text/javascript" charset="utf-8"></script>
    <script src="highlight.js" type="text/javascript" charset="utf-8"></script>
    <script src="book.js" type="text/javascript" charset="utf-8"></script>

    <!-- Custom JS scripts -->


</body>

    <!-- Custom HTML head -->
    <meta http-equiv="refresh" content="0; URL=https://wiki.enablingpersonalizedinterventions.nl/specification/" />
    
    <meta content="text/html; charset=utf-8" http-equiv="Content-Type">
    <meta name="description" content="">
    <meta name="viewport" content="width=device-width, initial-scale=1">
    <meta name="theme-color" content="#ffffff" />

    <link rel="icon" href="favicon.svg">
    <link rel="shortcut icon" href="favicon.png">
    <link rel="stylesheet" href="css/variables.css">
    <link rel="stylesheet" href="css/general.css">
    <link rel="stylesheet" href="css/chrome.css">
    <link rel="stylesheet" href="css/print.css" media="print">

    <!-- Fonts -->
    <link rel="stylesheet" href="FontAwesome/css/font-awesome.css">
    <link rel="stylesheet" href="fonts/fonts.css">

    <!-- Highlight.js Stylesheets -->
    <link rel="stylesheet" href="highlight.css">
    <link rel="stylesheet" href="tomorrow-night.css">
    <link rel="stylesheet" href="ayu-highlight.css">

    <!-- Custom theme stylesheets -->

</head>
<body>
    <!-- Provide site root to javascript -->
    <script type="text/javascript">
        var path_to_root = "";
        var default_theme = window.matchMedia("(prefers-color-scheme: dark)").matches ? "navy" : "navy";
    </script>

    <!-- Work around some values being stored in localStorage wrapped in quotes -->
    <script type="text/javascript">
        try {
            var theme = localStorage.getItem('mdbook-theme');
            var sidebar = localStorage.getItem('mdbook-sidebar');

            if (theme.startsWith('"') && theme.endsWith('"')) {
                localStorage.setItem('mdbook-theme', theme.slice(1, theme.length - 1));
            }

            if (sidebar.startsWith('"') && sidebar.endsWith('"')) {
                localStorage.setItem('mdbook-sidebar', sidebar.slice(1, sidebar.length - 1));
            }
        } catch (e) { }
    </script>

    <!-- Set the theme before any content is loaded, prevents flash -->
    <script type="text/javascript">
        var theme;
        try { theme = localStorage.getItem('mdbook-theme'); } catch(e) { }
        if (theme === null || theme === undefined) { theme = default_theme; }
        var html = document.querySelector('html');
        html.classList.remove('no-js')
        html.classList.remove('navy')
        html.classList.add(theme);
        html.classList.add('js');
    </script>

    <!-- Hide / unhide sidebar before it is displayed -->
    <script type="text/javascript">
        var html = document.querySelector('html');
        var sidebar = 'hidden';
        if (document.body.clientWidth >= 1080) {
            try { sidebar = localStorage.getItem('mdbook-sidebar'); } catch(e) { }
            sidebar = sidebar || 'visible';
        }
        html.classList.remove('sidebar-visible');
        html.classList.add("sidebar-" + sidebar);
    </script>

    <nav id="sidebar" class="sidebar" aria-label="Table of contents">
        <div class="sidebar-scrollbox">
            <ol class="chapter"><li class="chapter-item expanded affix "><a href="welcome.html">Welcome</a></li><li class="chapter-item expanded affix "><li class="part-title">Books</li><li class="chapter-item expanded "><a href="user-guide.html"><strong aria-hidden="true">1.</strong> Brane: The User Guide</a></li><li class="chapter-item expanded "><a href="specification.html"><strong aria-hidden="true">2.</strong> Brane: A Specification</a></li><li class="chapter-item expanded "><a href="admins.html"><strong aria-hidden="true">3.</strong> Brane: Guide For Administrators</a></li></ol>
        </div>
        <div id="sidebar-resize-handle" class="sidebar-resize-handle"></div>
    </nav>

    <div id="page-wrapper" class="page-wrapper">

        <div class="page">
                            <div id="menu-bar-hover-placeholder"></div>
            <div id="menu-bar" class="menu-bar sticky bordered">
                <div class="left-buttons">
                    <button id="sidebar-toggle" class="icon-button" type="button" title="Toggle Table of Contents" aria-label="Toggle Table of Contents" aria-controls="sidebar">
                        <i class="fa fa-bars"></i>
                    </button>
                    <button id="theme-toggle" class="icon-button" type="button" title="Change theme" aria-label="Change theme" aria-haspopup="true" aria-expanded="false" aria-controls="theme-list">
                        <i class="fa fa-paint-brush"></i>
                    </button>
                    <ul id="theme-list" class="theme-popup" aria-label="Themes" role="menu">
                        <li role="none"><button role="menuitem" class="theme" id="light">Light</button></li>
                        <li role="none"><button role="menuitem" class="theme" id="rust">Rust</button></li>
                        <li role="none"><button role="menuitem" class="theme" id="coal">Coal</button></li>
                        <li role="none"><button role="menuitem" class="theme" id="navy">Navy (default)</button></li>
                        <li role="none"><button role="menuitem" class="theme" id="ayu">Ayu</button></li>
                    </ul>
                    <button id="search-toggle" class="icon-button" type="button" title="Search. (Shortkey: s)" aria-label="Toggle Searchbar" aria-expanded="false" aria-keyshortcuts="S" aria-controls="searchbar">
                        <i class="fa fa-search"></i>
                    </button>
                </div>

                <h1 class="menu-title">Main page</h1>

                <div class="right-buttons">
                    <a href="print.html" title="Print this book" aria-label="Print this book">
                        <i id="print-button" class="fa fa-print"></i>
                    </a>
                    <a href="https://github.com/epi-project/brane" title="Git repository" aria-label="Git repository">
                        <i id="git-repository-button" class="fa fa-github"></i>
                    </a>

                </div>
            </div>

            <div id="search-wrapper" class="hidden">
                <form id="searchbar-outer" class="searchbar-outer">
                    <input type="search" id="searchbar" name="searchbar" placeholder="Search this book ..." aria-controls="searchresults-outer" aria-describedby="searchresults-header">
                </form>
                <div id="searchresults-outer" class="searchresults-outer hidden">
                    <div id="searchresults-header" class="searchresults-header"></div>
                    <ul id="searchresults">
                    </ul>
                </div>
            </div>

            <!-- Apply ARIA attributes after the sidebar and the sidebar toggle button are added to the DOM -->
            <script type="text/javascript">
                document.getElementById('sidebar-toggle').setAttribute('aria-expanded', sidebar === 'visible');
                document.getElementById('sidebar').setAttribute('aria-hidden', sidebar !== 'visible');
                Array.from(document.querySelectorAll('#sidebar a')).forEach(function(link) {
                    link.setAttribute('tabIndex', sidebar === 'visible' ? 0 : -1);
                });
            </script>

            <div id="content" class="content">
                <main>
                    <h1><a class="header">Redirecting...</a></h1>

                </main>

                <nav class="nav-wrapper" aria-label="Page navigation">
                    <!-- Mobile navigation buttons -->

                        <a rel="next" href="user-guide.html" class="mobile-nav-chapters next" title="Next chapter" aria-label="Next chapter" aria-keyshortcuts="Right">
                            <i class="fa fa-angle-right"></i>
                        </a>

                    <div style="clear: both"></div>
                </nav>
            </div>
        </div>

        <nav class="nav-wide-wrapper" aria-label="Page navigation">

                <a rel="next" href="user-guide.html" class="nav-chapters next" title="Next chapter" aria-label="Next chapter" aria-keyshortcuts="Right">
                    <i class="fa fa-angle-right"></i>
                </a>
        </nav>

    </div>




    <script type="text/javascript">
        window.playground_copyable = true;
    </script>


    <script src="elasticlunr.min.js" type="text/javascript" charset="utf-8"></script>
    <script src="mark.min.js" type="text/javascript" charset="utf-8"></script>
    <script src="searcher.js" type="text/javascript" charset="utf-8"></script>

    <script src="clipboard.min.js" type="text/javascript" charset="utf-8"></script>
    <script src="highlight.js" type="text/javascript" charset="utf-8"></script>
    <script src="book.js" type="text/javascript" charset="utf-8"></script>

    <!-- Custom JS scripts -->


</body>

    <!-- Custom HTML head -->
    <meta http-equiv="refresh" content="0; URL=https://wiki.enablingpersonalizedinterventions.nl/admins/" />
    
    <meta content="text/html; charset=utf-8" http-equiv="Content-Type">
    <meta name="description" content="">
    <meta name="viewport" content="width=device-width, initial-scale=1">
    <meta name="theme-color" content="#ffffff" />

    <link rel="icon" href="favicon.svg">
    <link rel="shortcut icon" href="favicon.png">
    <link rel="stylesheet" href="css/variables.css">
    <link rel="stylesheet" href="css/general.css">
    <link rel="stylesheet" href="css/chrome.css">
    <link rel="stylesheet" href="css/print.css" media="print">

    <!-- Fonts -->
    <link rel="stylesheet" href="FontAwesome/css/font-awesome.css">
    <link rel="stylesheet" href="fonts/fonts.css">

    <!-- Highlight.js Stylesheets -->
    <link rel="stylesheet" href="highlight.css">
    <link rel="stylesheet" href="tomorrow-night.css">
    <link rel="stylesheet" href="ayu-highlight.css">

    <!-- Custom theme stylesheets -->

</head>
<body>
    <!-- Provide site root to javascript -->
    <script type="text/javascript">
        var path_to_root = "";
        var default_theme = window.matchMedia("(prefers-color-scheme: dark)").matches ? "navy" : "navy";
    </script>

    <!-- Work around some values being stored in localStorage wrapped in quotes -->
    <script type="text/javascript">
        try {
            var theme = localStorage.getItem('mdbook-theme');
            var sidebar = localStorage.getItem('mdbook-sidebar');

            if (theme.startsWith('"') && theme.endsWith('"')) {
                localStorage.setItem('mdbook-theme', theme.slice(1, theme.length - 1));
            }

            if (sidebar.startsWith('"') && sidebar.endsWith('"')) {
                localStorage.setItem('mdbook-sidebar', sidebar.slice(1, sidebar.length - 1));
            }
        } catch (e) { }
    </script>

    <!-- Set the theme before any content is loaded, prevents flash -->
    <script type="text/javascript">
        var theme;
        try { theme = localStorage.getItem('mdbook-theme'); } catch(e) { }
        if (theme === null || theme === undefined) { theme = default_theme; }
        var html = document.querySelector('html');
        html.classList.remove('no-js')
        html.classList.remove('navy')
        html.classList.add(theme);
        html.classList.add('js');
    </script>

    <!-- Hide / unhide sidebar before it is displayed -->
    <script type="text/javascript">
        var html = document.querySelector('html');
        var sidebar = 'hidden';
        if (document.body.clientWidth >= 1080) {
            try { sidebar = localStorage.getItem('mdbook-sidebar'); } catch(e) { }
            sidebar = sidebar || 'visible';
        }
        html.classList.remove('sidebar-visible');
        html.classList.add("sidebar-" + sidebar);
    </script>

    <nav id="sidebar" class="sidebar" aria-label="Table of contents">
        <div class="sidebar-scrollbox">
            <ol class="chapter"><li class="chapter-item expanded affix "><a href="welcome.html">Welcome</a></li><li class="chapter-item expanded affix "><li class="part-title">Books</li><li class="chapter-item expanded "><a href="user-guide.html"><strong aria-hidden="true">1.</strong> Brane: The User Guide</a></li><li class="chapter-item expanded "><a href="specification.html"><strong aria-hidden="true">2.</strong> Brane: A Specification</a></li><li class="chapter-item expanded "><a href="admins.html"><strong aria-hidden="true">3.</strong> Brane: Guide For Administrators</a></li></ol>
        </div>
        <div id="sidebar-resize-handle" class="sidebar-resize-handle"></div>
    </nav>

    <div id="page-wrapper" class="page-wrapper">

        <div class="page">
                            <div id="menu-bar-hover-placeholder"></div>
            <div id="menu-bar" class="menu-bar sticky bordered">
                <div class="left-buttons">
                    <button id="sidebar-toggle" class="icon-button" type="button" title="Toggle Table of Contents" aria-label="Toggle Table of Contents" aria-controls="sidebar">
                        <i class="fa fa-bars"></i>
                    </button>
                    <button id="theme-toggle" class="icon-button" type="button" title="Change theme" aria-label="Change theme" aria-haspopup="true" aria-expanded="false" aria-controls="theme-list">
                        <i class="fa fa-paint-brush"></i>
                    </button>
                    <ul id="theme-list" class="theme-popup" aria-label="Themes" role="menu">
                        <li role="none"><button role="menuitem" class="theme" id="light">Light</button></li>
                        <li role="none"><button role="menuitem" class="theme" id="rust">Rust</button></li>
                        <li role="none"><button role="menuitem" class="theme" id="coal">Coal</button></li>
                        <li role="none"><button role="menuitem" class="theme" id="navy">Navy (default)</button></li>
                        <li role="none"><button role="menuitem" class="theme" id="ayu">Ayu</button></li>
                    </ul>
                    <button id="search-toggle" class="icon-button" type="button" title="Search. (Shortkey: s)" aria-label="Toggle Searchbar" aria-expanded="false" aria-keyshortcuts="S" aria-controls="searchbar">
                        <i class="fa fa-search"></i>
                    </button>
                </div>

                <h1 class="menu-title">Main page</h1>

                <div class="right-buttons">
                    <a href="print.html" title="Print this book" aria-label="Print this book">
                        <i id="print-button" class="fa fa-print"></i>
                    </a>
                    <a href="https://github.com/epi-project/brane" title="Git repository" aria-label="Git repository">
                        <i id="git-repository-button" class="fa fa-github"></i>
                    </a>

                </div>
            </div>

            <div id="search-wrapper" class="hidden">
                <form id="searchbar-outer" class="searchbar-outer">
                    <input type="search" id="searchbar" name="searchbar" placeholder="Search this book ..." aria-controls="searchresults-outer" aria-describedby="searchresults-header">
                </form>
                <div id="searchresults-outer" class="searchresults-outer hidden">
                    <div id="searchresults-header" class="searchresults-header"></div>
                    <ul id="searchresults">
                    </ul>
                </div>
            </div>

            <!-- Apply ARIA attributes after the sidebar and the sidebar toggle button are added to the DOM -->
            <script type="text/javascript">
                document.getElementById('sidebar-toggle').setAttribute('aria-expanded', sidebar === 'visible');
                document.getElementById('sidebar').setAttribute('aria-hidden', sidebar !== 'visible');
                Array.from(document.querySelectorAll('#sidebar a')).forEach(function(link) {
                    link.setAttribute('tabIndex', sidebar === 'visible' ? 0 : -1);
                });
            </script>

            <div id="content" class="content">
                <main>
                    <h1><a class="header">Redirecting...</a></h1>

                </main>

                <nav class="nav-wrapper" aria-label="Page navigation">
                    <!-- Mobile navigation buttons -->

                        <a rel="next" href="user-guide.html" class="mobile-nav-chapters next" title="Next chapter" aria-label="Next chapter" aria-keyshortcuts="Right">
                            <i class="fa fa-angle-right"></i>
                        </a>

                    <div style="clear: both"></div>
                </nav>
            </div>
        </div>

        <nav class="nav-wide-wrapper" aria-label="Page navigation">

                <a rel="next" href="user-guide.html" class="nav-chapters next" title="Next chapter" aria-label="Next chapter" aria-keyshortcuts="Right">
                    <i class="fa fa-angle-right"></i>
                </a>
        </nav>

    </div>




    <script type="text/javascript">
        window.playground_copyable = true;
    </script>


    <script src="elasticlunr.min.js" type="text/javascript" charset="utf-8"></script>
    <script src="mark.min.js" type="text/javascript" charset="utf-8"></script>
    <script src="searcher.js" type="text/javascript" charset="utf-8"></script>

    <script src="clipboard.min.js" type="text/javascript" charset="utf-8"></script>
    <script src="highlight.js" type="text/javascript" charset="utf-8"></script>
    <script src="book.js" type="text/javascript" charset="utf-8"></script>

    <!-- Custom JS scripts -->


</body>